In the year 1999, I received my Driving License(DL) at RTO in Thane. A small blue booklet with handwritten notes, it looked quite outdated compared to the driving license smart card I had seen with my father. After returning to India a couple of years back, I often wondered if my old license booklet was still recognized. So I checked my driving license number on the Parivahan website and as expected, it did not show any record.
If you also have an old driving license, check if the license record exists here: https://parivahan.gov.in/rcdlstatus/?pur_cd=101
I decided to visit the RTO office, Belgaum and asked them about it. The RTO office in Belgaum is located at right side of the PB road once you cross the Sangoli Rayanna Circle. The staff were very helpful and promptly made an entry in the database after verifying my original license. Thereafter, my driving license showed up online. Having your record added to the RTO database is very important as it will help you perform future transactions online. The RTO will also update your mobile number in their database and send you timely reminders. The validity of my license was for 20 years, until Aug 2019. I received an SMS reminding me to renew the license on time and avoid late fees.
An expired driving license is valid only for a month. After this date, you will need to pay a penalty of more than 1000 Rs based on the delay time in renewal.
While most of the steps can be performed online, a few steps will require you to visit RTO office in person.
Here are the Steps to renew the DL:
1. Fill Application Details
Use this link: https://sarathi.parivahan.gov.in/sarathiservicecov2/sarathiHomePublic.do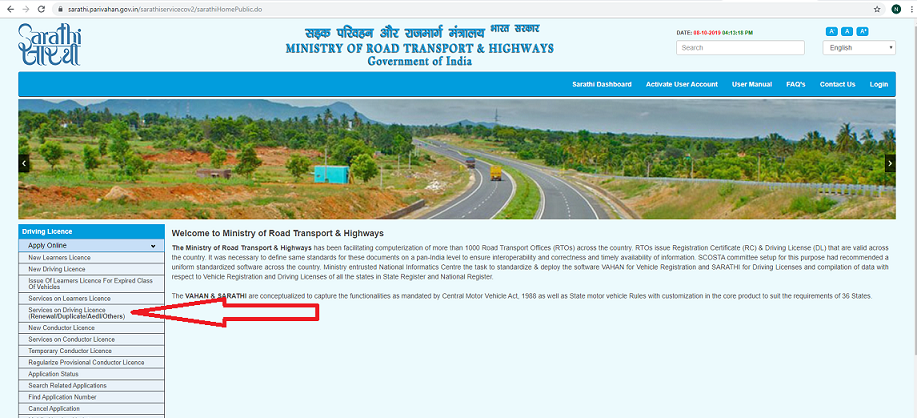 Fill Applicant Details in the Online Form.
Once you finish this, you will receive an Application number. Save this number for future transactions.
You need to download the completed form and take a print out.
Your download will consist of Form 9(DL Renewal Form), Form 1(Physical Fitness declaration form), Form 1A(Medical Certificate)
2. Upload Documents
Here are the documents you will need to upload, so keep them ready.
Age Proof – I used PAN, there are other options accepted as age proof. You can see it in the drop down for Uploading documents
Address Proof – I used Aadhar for this.
Scanned Photo and Signature
Photo – 420 pixel x 525 pixel and Size 10kb – 20kb
Signature – 256 pixel x 64 pixel and Size 10kb – 20kb
I used MS-Paint to compress the files to required size and resolution. This took some time as the size mentioned is quite small.
Upload Scanned old DL
3. Medical Certificate
The Application form you filled in Step 1, will have the Form 1A for Medical Certificate.
Take a print out of this.
Attach your photo and fill in your identification marks, the doctor will fill the rest of the details.
You need to obtain Medical Certificate from a Government Doctor only. I got mine from the Primary HealthCare Centre(PHC) in Ram Nagar. There is a small road perpendicular to Maratha Mandal College, take that road and the PHC is at the first left. You will see a small single floor building. Surprisingly, none of the college students I asked knew about the existence of this PHC. In India, when nobody knows the place/ roads, ask the most reliable GPS – the auto wallah and you wont be disappointed. While I met one nurse in the PHC who misled me and made me run around and visit twice, there was thankfully another kind nurse who helped me out. Once you get the Doctor's signature and seal, the PHC will ask you to submit a Xerox for their records.
Note: There are agents who will help you get the certificate for 100 Rs near RTO itself. If you have the time and patience, you can do it for free. Ideally, we all should avoid middle men.
4. Payment of Fees
The renewal fees was 351Rs, to be paid online. If the payment fails due to transaction failure, you will get a message to check after 30 minutes. If you check after 30 minutes, it still won't allow you to pay. You will need to personally visit RTO office to ask them to cancel the transaction. They do not take payment by cash at RTO Belgaum and payment online is a must.
Take a printout of the receipt after paying the fees, as this will be required for further processing.

5. RTO Visit
a. Biometric Verification
Once you enter Belgaum RTO, turn right and walk a little distance past the main RTO building to a small separate room. You will need to submit your application printout here. The person in charge will click your photo and ask you to sign on an electronic pad. A fee of 60Rs is collected here. After submitting the biometrics, this person will give you a receipt, keep it carefully. 
b. Driving License Verification
For this, you will need to visit the main RTO office and show your original Driving License at the counter. Please note the timings on each counter. Ideal time to visit RTO, especially these counters is from 10am to 1pm.
c. Superintendent Signature
You will be asked to collect a self addressed envelope from the Xerox shop outside RTO. They will charge you 35Rs for this.
Enter your name and address on the envelope.
Attach your
Application form(Form 9) including Medical Certificate(Form 1 and 1A)
Biometric Receipt/ Challan
Renewal Fee Payment Receipt/ Challan
Original DL
Place all of this along with the self addressed envelope and give it to the Superintendent for one final approval signature. After it is signed, you will need to submit all of these forms to an RTO staff. The RTO staff will give you a rough idea about when you will receive the license at home.
Once your application is approved, you will get an SMS. This generally happens within 7-10 days. The home delivery of the license will take time. You can track your application using the Application number on the Parivahan website. If you do not receive your DL to your home address, visit the RTO and collect in person.
The DL renewal process application submission took me 2 days and a total fees of Rs 446(351Rs Renewal Fees + 60Rs Biometric Fees + 35Rs Envelope) for the renewal. My recommendation is to try doing this process on your own and avoid agents, I hope sharing my experience above will help you. A permanent driving license has a validity of 20 years or until the age of 50, whichever comes first.
Keep your records updated and drive safe.